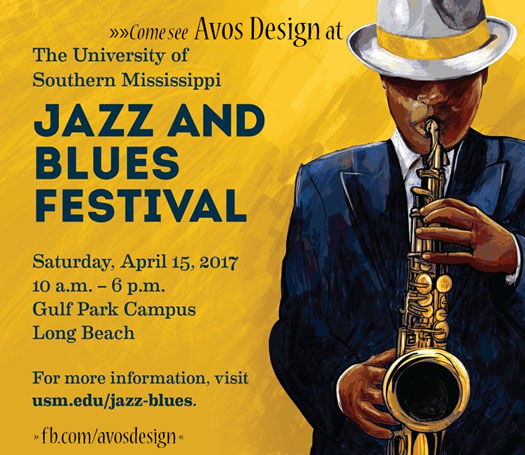 Artist Avos D will be at the annual Jazz & Blues Festival being held at the USM campus in long beach Mississippi.
Stop by for $1 GLOW-IN-DARK Kids stickers by the Artist.
This Southern MIss Jazz and Blues Festival is one of the largest events of the year held on the USM campus, featuring food and beverages, Local and national artisans booths,family oriented fun activities, and an Easter Egg Hunt at 11am for children 12years old and under.
The festival this year will host about 40 vendors, of various arts and crafts & foods throughout the festival grounds.  You can also buy 2017 Festival T-shirts and posters throughout the duration of the event.
Organized by the Student committees of USM are numerous children's activities, such as carnival games, face painting, obstacle course and the classic bounce house, and various other fun activities to keep the whole family entertained.
Kiddos will also get to MEET Seymour (the USM mascot) and MEET the Easter Bunny, along with hunting for easter eggs at the traditional Easter egg hunt being held at 11 a.m. for ages 12 and under.
The 2017 Southern Miss Jazz and Blues Festival will be held on Saturday, April 15, 2017 from 10 a.m. until 6 p.m. on the front lawn of the Gulf Park Campus in Long Beach. The festival features jazz and blues musicians, an Easter egg hunt at 11 a.m. for children ages 12 and under, local artists and craftsmen, food vendors, and activities for the entire family
MAIN STAGE SCHEDULE
10:00 a.m.-12:00 p.m.

Coast Big Band

12:30-2:00 p.m.
Army Jazz Band
2:30-4:00 p.m.
Jesse Loya and the House Katz
4:30-6:00 p.m.
The Sofia Goodman Group
SIDE STAGE LINEUP
12:00-12:30 p.m.
Shea Ladner
2:00-2:30 p.m.
Jimmy Robinson
4:00-4:30 p.m.
Jimmy Robinson
The Southern Miss Gulf Park campus is located at 730 East Beach Boulevard in Long Beach. For more information on the 2017 Jazz and Blues Festival, visit www.usm.edu/jazz-blues or call 228.865.4574.
Stop by the Avos Design Booth to MEET the national Artist Avos D and
check out the large selection of professionally matted and signed vibrant prints.  Not to mention our featured glow-in-the dark custom paintings, prints, and GLOW-IN-DARK $1 stickers for the kids!
IT's going to be a blast!  Can't wait to see you there!